The HA's Mission is to: 'Eliminate the challenges
of hydrocephalus'
ODE TO A PEDIATRIC NEUROSURGEON
---
Never sleeping,
Family...Who?
Cries of children
Parents, too-
Breaking hearts
Brilliant smiles
Holding hands,
Sitting just awhile.
Eyes that tear
Hearts that ache
Wish you could fix
All who come to you this day.
Bone tired, never enough sleep,
Hugs from parents
And their children, keep
You forging on
Day by day
Praying you are helping
In some small way.
When in truth, all be told
You are a hero
Strong and bold
To the parents
And their children, too.
YOU,
Pediatric Neurosurgeon
Are OUR hero
By all that you do.
©2008 Debby Buffa
All Rights Reserved
If our newsletter has been forwarded to you and you would like to receive it in the future, please:


Join Our List

And Join Us On
Facebook, Twitter
and Youtube
The CEO's Corner

"A wise man should consider that health is the greatest of human blessings, and learn how by his own thought to derive benefit from his illnesses." - Hippocrates
I've recently had some unexpected health issues that have given me some time to pause and see life from a different perspective...I've gained insights as a result of this experience that I do want to share with you.
As we continue our interview series commemorating our 30th anniversary, we sit down with a member of our board who has also been involved with HA since the early 1990s. Ralph Kistler has served on the HA Board of Directors since 2002. Prior to joining the board, he was Vice President of Sales at Medtronic Neurosurgery.
"Never underestimate the strength of the human spirit. Behind every illness we are studying there are real people living it every day. It is important to never lose sight of those people. They are the reason we do what we do. Let them inspire you to always keep working harder, and never forget the profound difference even the smallest act of kindness and compassion can make."
A quote from Jamie Wright, our Support Group Leader in Houston, TX, as we continue our history interview series commemorating our 30th anniversary.
Our Teens Take Charge (TTC) Advisory Council is made up of eight articulate, creative, enthusiastic teenagers who are ready and willing to take a stand against hydrocephalus. As part of our interview series in commemoration of our 30th anniversary, our intern, Jessica Ford, sits down with TTC Advisory Council member Wyatt Barris to talk about TTC, the Hydrocephalus Association (HA), and his message to the world about living with hydrocephalus.
As we continue our interview series in commemoration of our 30th anniversary, Dr. Harold L. Rekate, Director of the Chiari Institute in New York, sits down and shares a personal account of what inspired him to become a neurosurgeon, a career shaped by hydrocephalus and its patients, and his relationship with the Hydrocephalus Association.
Advocacy and Awareness Update
Welcome to the 2013 HA WALK season!
And so it begins...
Welcome to the 2013 HA WALK season! Our new year of HA WALKs and special events is underway. We are pleased to announce that we have 33 WALK sites this year plus the Virtual WALK, for people who don't have a HA WALK in their area. Although the first WALK on the schedule is Portland on June 15th, many WALKs already have launched their web page. People are registering to participate and using HA's online fundraising tools to raise money. It's never too early to start.
Research Update
The Institute of Biosciences and Technology at Texas A&M University formally announced that researchers discovered a connection between a form of congenital hydrocephalus and a genetic defect. The study is led by Jiang Chang, M.D., Ph.D., associate professor in the Center for Translational Cancer Research and a prominent researcher focusing on the abnormal development of heart tissue and how it leads to heart failure. After identifying the significant finding for hydrocephalus among his study subjects, Dr. Chang attended a local Hydrocephalus Association (HA) support group meeting to meet individuals affected by hydrocephalus and to share his findings with the Association.
Read the Texas A&M Health Science Center Press Release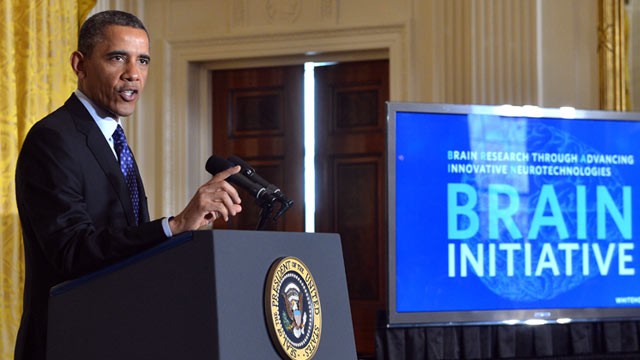 President Obama announced that he is proposing $100 million in federal research dollars toward a brain mapping initiative that will ultimately open the door to better treatment options for many brain conditions, including traumatic brain injuries, Alzheimer's disease, and stroke.
On March 14, 2013, HA posted a blog about the research of Dr. Sonia Podvin entitled, Research UPDATE: Investigating Alternative Treatment Options for Hydrocephalus. Angela, a member from our community, asked the following question: My son had hydrocephalus at birth due to aqueductal stenosis (AS). Would patients like this be a candidate? Dr. Podvin responds.
Each year the American Association for Neurological Surgeons (AANS) hosts its annual scientific meeting bringing together neurosurgeons from across the country. This year's meeting entitled, "Changing Our Culture to Advance Patient Safety," focused on the patient-safety movement. HA's attendance at the AANS meeting began in 1988 when Emily Fudge and Cynthia Solomon set up a table and distributed our first publication, About Hydrocephalus - A Book for Parents, raising awareness about the existence of our patient advocacy association.
Development Update
Thank You to Our Sponsors!
HA was awarded a major grant from the Medtronic Foundation to continue funding Teens Take Charge (TTC) and our 2013 Advocacy Day. These programs are critical to building awareness of hydrocephalus and voicing the needs of our community to elected officials. Medtronic NT will also join HA as a Platinum sponsor of the 2013 WALK and support several other educational programs.
We are also pleased to announce that Aesculap will serve as a Silver level sponsor of the 2013 WALK and has provided seed support to conduct HA's new webinar series that will be launched this summer. The webinar programming provides an opportunity for HA to bring experts in the field to share the latest in hydrocephalus research and treatment with constituents. Stay tuned for more information on these sessions.
We are very grateful for all of the support HA receives from corporate and foundation partners and we look forward to highlighting many more of our sponsors in the coming months!
If you have not sent your 2013 membership commitment, please do so by clicking here. Your membership dollars go a long way in the fight against hydrocephalus.
To renew over the phone, please contact us at 301-202-3811 ext. 17.
Welcome Marisol Ortiz!
HA is pleased to announce a new addition to our development team, Marisol Ortiz, who will serve as the Database and Donor Relations Manager. Marisol comes to us with experience working with databases at the Alzheimer's Association National Capital Area and a for-profit company called Ntrepid. She will play a critical role in helping HA deploy a new constituent management system and donor relations program. She may be reached at 301-202-3811 ext. 21.
Support and Education Update
From the travel journal of Gina Barbaro
Entry #1: Planning my trip to Machu Pichu, Peru
Having had a shunt implant just one year ago, I still had lots to learn about Normal Pressure Hydrocephalus (NPH). What limitations might it present for me? Would I be able to travel as I like? Where I want? These were realistic questions for me to contemplate. Although I am doing well at sea level in Baltimore, Maryland, where I live, I wondered if any symptoms would return during an anticipated vacation to Machu Picchu, Peru, where the altitude is 8000 feet. I also wondered if I would be more prone to altitude sickness.
I smile because you are my sibling. I laugh because there is nothing you can do about it.
In honor of National Siblings Day, we highlight a special group of loved ones in our lives - brothers and sisters, both older and younger, of individuals living with hydrocephalus. The relationship between siblings is complex and sometimes even...shall we say... strained, but there is a powerful, unbreakable bond that endures through the best and hardest of times. Two of our Teens Take Charge (TTC) Advisory Council Members, Harrison Silver and Alexis Rocciola, share a special message to their siblings.
We asked on our Teens Take Charge Facebook Page: "Have you encountered any challenges in school due to hydrocephalus? What have you done to overcome them?"
Teens Take Charge member Madeleine Darowiche discusses a few of the obstacles she has faced in school and offers some positive words of encouragement for her fellow peers.
Hydrocephalus in the News - Raising Awareness

HA Mom Raises Awareness in the Missourian
Robin Friedrich shares her son Clayton's story of being born with hydrocephalus in the Columbia Missourian From Our Readers series. She has made it her life mission to raise awareness for hydrocephalus. She will participate in the St. Louis WALK this September.
The Australian Government Department of Health and Aging has submitted a report currently under review to establish a registry of individuals with hydrocephalus. The registry is part of a larger initiative by the Australian government to improve surveillance of certain high risk implantable medical devices as well as track patient outcomes.