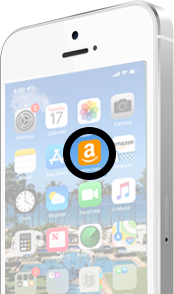 LOVE TO SHOP FROM YOUR PHONE? Your Amazon mobile app is not able to support HA when your purchase from your phone. But we have a great hack for you…
Here's an easy way to shop on AmazonSmile right from your smart phone: 
Step 1:  Using a Safari browser, log onto AmazonSmile.
Step 2:  Log into your Amazon account.
Step 3:  Tap the share button in the menu bar.
Step 4:  Tap the "Add to Home Screen" button
For Android users, in your browser go to AmazonSmile and login to your account. Click the browser menu button. Tap the Add to Homescreen.
(If you haven't already selected the Hydrocephalus Association as the nonprofit you're supporting on AmazonSmile, log into AmazonSmile from your desktop or laptop to do so BEFORE you create the shortcut.)