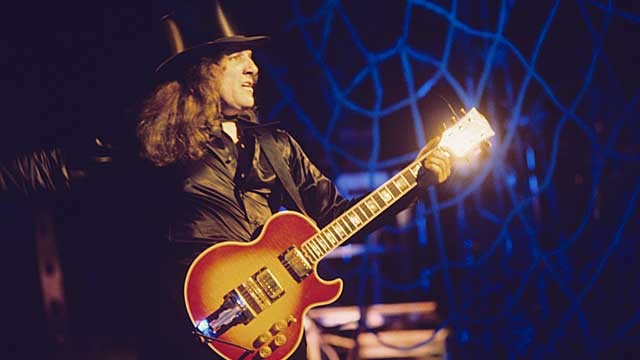 ABC News Worldwide features a story today on guitar rock legend, Dick Wagner, and his diagnosis of Normal Pressure Hydrocephalus (NPH). The article, Rock Star Nearly Loses Career with "Curable" Dementia is another step forward in increasing public awareness of both NPH and hydrocephalus.
The story about Mr. Wagner follows him from the time he began to see symptoms through the placement of his shunt at the Barrow Neurological Institute in Phoenix, Arizona. Alicia Harper of Orlando, Florida, is also highlighted, sharing a similar story of a slow creep of symptoms that many individuals with NPH initially write off as part of the aging process. Unfortunately, this is a common thread in the stories we hear of NPH. The length of time to get a diagnosis and the proper treatment can often takes years. There is another common thread as well, however: that with the proper treatment, most individuals get their lives back after having struggled with the progressively debilitating symptoms NPH can bring. Case in point, Mr. Wagner is once again on the music-circuit, playing concerts throughout Europe.
Often referred to as the "curable" form of dementia, NPH is often mistaken for Alzheimer's or Parkinson's disease. While the condition was identified over 50 years ago, there remains little research into the condition. The National Institutes of Health (NIH) are currently funding only $500,000 of research looking into causes and treatments for NPH, while the number of people affected are estimated between 345,000 and 540,000. At the Hydrocephalus Association, we do not think this is enough and we are working to change the research ecosystem with regards to NPH. This past year, we announced our investment in an adult extension of the work of our pediatric-focused partner, the Hydrocephalus Clinical Research Network (HCRN). This new effort, led by Dr. Mark Hamilton of Calgary, is a group of physicians collaborating to study and standardize the treatments for all forms of hydrocephalus in adults, including NPH, in order to improve outcomes. The group also includes Dr. Mark Luciano from the Cleveland Clinic (interviewed for the ABC piece), and Drs. Williams, Relkin, Klinge, and Katzen from Sinai Medical Center, Cornell, Brown and Miami University respectively. We look forward to being a part of bringing this network to fruition, but our role in supporting the research community does not end with this network. We continue to raise critical funds toward the research of hydrocephalus with our A Reason for Hope campaign. Furthermore through hosting research conferences and workshops, we continue to bring the medical and research community together to keep an active dialogue going around the causes, treatments, and potential cures for hydrocephalus.
This latest ABC article is one in a series of articles that have appeared in the past year. We have seen an increase in attention the national media has paid to NPH. To compliment these larger stories, the Hydrocephalus Association has featured the personal journeys from hydrocephalus patients within our membership through our website blogs and Faceook pages. The NPH voice is rising and we are being heard. Consequently, the number of people turning for information and support from our association is also increasing. It encourages us to know that we can provide individuals with the critical information they need, people they can speak to for assistance with their questions and concerns, and a community of other individuals sharing their journey. If you are looking for information, you can turn to our NPH Page or download our free publication About Normal Pressure Hydrocephalus: A Book for Adults and Their Families. You can also find special resources about NPH in our online Hydrocephalus Resource Library.
We look forward to continuing to play an active role in raising awareness of NPH in this, our 30th anniversary year, as well as continuing to serve the NPH community.